I am a customer.
I want service in Georgia.
Georgia Updates
Want to know if we're available in your area? Check Availability
Area Updates - September 2023
Highline's mission is to provide an exceptional internet experience, empowering our customers to work, play, and thrive in a connected world! 
SUMMER BREAK MAY BE OVER BUT THE DEALS DON'T STOP! --- We are excited for a fun-filled school year and even more excited to offer a reliable Network with our 1Gig option, which includes 1000X1000Mbps of streaming with no data caps, no hidden fees, and most importantly – No contracts.   Sign up today at www.highlinefast.com or by calling into our local office at 1-888-212-0054. 
Highline has officially reached 100+ customers, and we are excited to hear your feedback. Once installed, each customer will receive a survey. We value what our customers have to say about us and greatly appreciate your feedback. 
Did you know Highline has a program to acknowledge our community educators and first responders? Highline believes that our community thrives when we all work together supporting one another by awarding a first responder and educator monthly with a $200 visa gift card, highline swag bag and monthly social media recognition.  
Submit your nomination today and tell us why your first responder and/or educator should be chosen.  
 www.fast.com/first-responder-month 
https://highlinefast.com/teacher-month 
**FIRST RESPONDER OF THE MONTH** 
Meet our "FIRST" First Responder of the Month, Logan Gordy! Logan and his fiance' Trista both were involved in an accident while on duty. We were able to meet with Logan's Father (Tim Gordy) pictured below who stated; that Logan is still on the road to recovery and Trista is doing well. Tim would like the community to know that he and his family are thankful for the overflow of support and prayers they have received. We ask that you keep this family in your thoughts and prayers. 
The EMC power pole transfer project has been completed! Please expect to see our construction team placing FIBER along the poles in this area. Once complete, a Highline Customer Experience Specialist will contact those who have already signed up for service to schedule the final installation. We appreciate your patience as we work to get this project completed.  
Customers who have been added to our fiber drop list have already received a fiber line connection to the home and will be prioritized for installation! If you have not called in to create an order, please call in today and avoid the wait. 
 Join us >> Popup social hosted at HOMETOWN NUTRITION 9/21/2023 FROM 12 NOON-2 PM located at 106 E Main St. Thomaston GA,30286. Spin the wheel, win prizes, sign up for service, and ENJOY the taste of Thomaston. We look forward to seeing you.  
Pardon our dust- Ongoing construction for fiber continues in the following neighborhoods as we prepare to bring you a reliable fiber connection. Please call in today to get your order started. Customers can expect to be contacted to schedule installation within the next 30-45 days.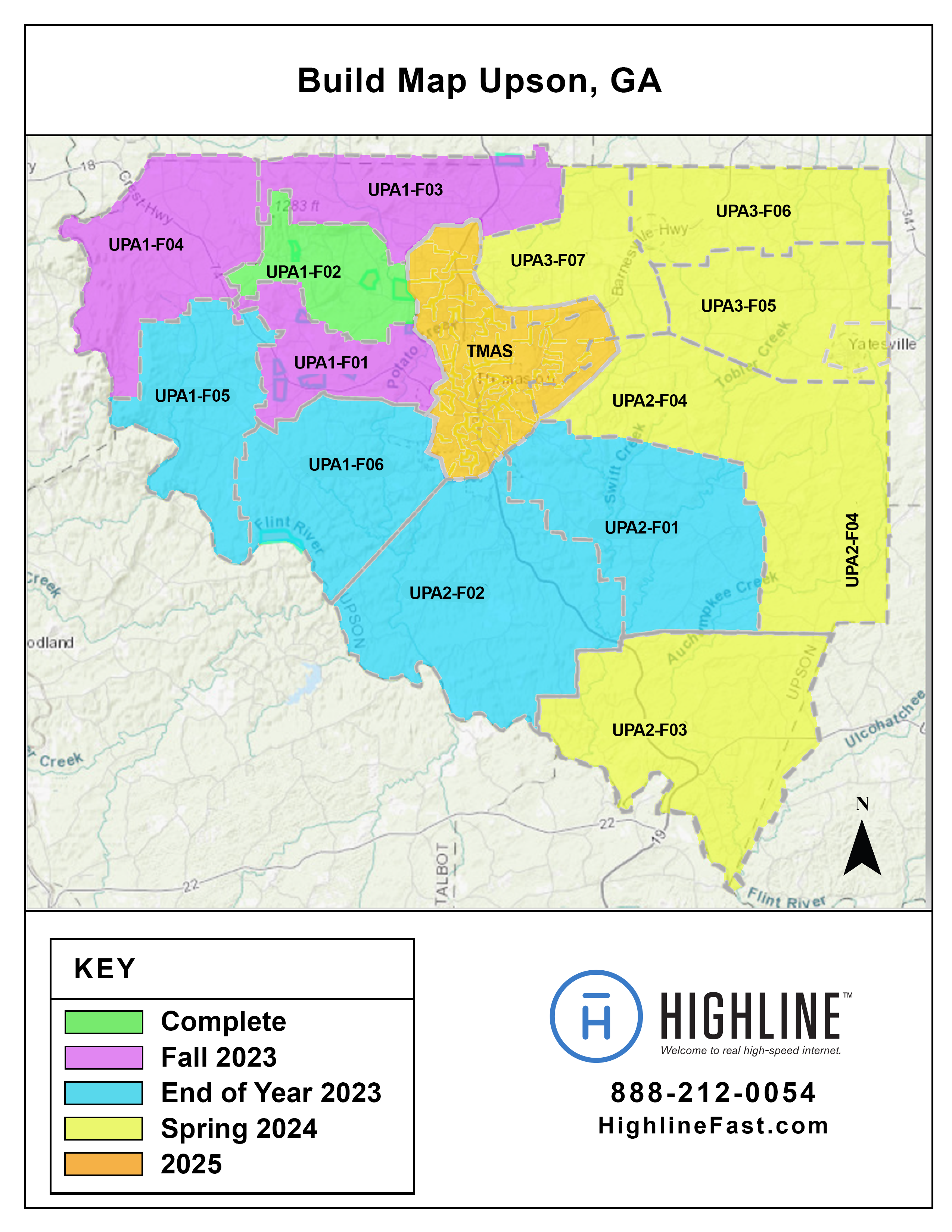 WAVERLY 
HAVE YOU SCHEDULED YOUR INSTALLATION? – **FIBER AVAILABLE NOW ** Please call in today to get your order started.  
GA Highway 315

 

Pierce Rd

 

Ridgeway

 

Whisperwood Ln.

 

Pine Hollow Rd.

 
If you have already signed up for service in the above neighborhoods, a Highline fiber crew member will contact you to complete the design sketch for installation purposes. Once completed, our local representative will call to schedule the final installation. 
YOU ASKED AND WE DELIVERED – Highline has started construction on "Diamond Rd." Please call in today to get your order started and set up service. We anticipate completion of this project within the next 15 days! 
Stay connected, follow us on social media!! 
About Highline Fiber Internet in Georgia
Highline is a high-speed internet and voice provider that serves previously underserved and unserved communities throughout the United States.
Highline believes everyone deserves access to every opportunity that comes from fully participating in today's digital world. And we are committed to bringing the power of fiber-enabled internet to communities across the U.S.
We're Local
We care about the local community because we're a part of it. As Georgia residents, we take great pride in our community!
Honoring Our Teachers
Georgia teachers deserve recognition for their hard work and commitment. Highline invites you to nominate someone to be recognized as a Teacher of the Month. Winning teachers will receive a $200 gift card.
Honoring Our First Responders
Georgia first responders work in extreme conditions to keep our citizens safe. Highline invites you to nominate someone to be recognized as a First Responder of the Month. Winning nominees will receive a $200 gift card.
Affordable Connectivity Program
The Affordable Connectivity Program is a government program that helps low-income households pay for access to high-speed fiber internet.