I am a Michigan customer.
I want service in Michigan.
About Highline Fiber Internet in Michigan
Highline is a high-speed internet and voice provider that serves previously underserved and unserved communities throughout the United States.
Highline believes everyone deserves access to every opportunity that comes from fully participating in today's digital world. And we are committed to bringing the power of fiber-enabled internet to communities across the U.S.
We're Local
We care about the local community because we're a part of it. As Michigan residents, we take great pride in our community!
Honoring Our Teachers
Michigan teachers deserve recognition for their hard work and commitment. Highline invites you to nominate someone to be recognized as a Teacher of the Month. Winning teachers will receive a $200 gift card.
Honoring Our First Responders
Michigan first responders work in extreme conditions to keep our citizens safe. Highline invites you to nominate someone to be recognized as a First Responder of the Month. Winning nominees will receive a $200 gift card.
Affordable Connectivity Program
The Affordable Connectivity Program is a government program that helps low-income households pay for access to high-speed fiber internet.
Michigan Updates
I hope everyone had a wonderful Thanksgiving holiday! We have much to be thankful for here at Highline. Even though winter is upon us, we will continue to connect homes that are within 300 feet of our network. It's also important to remind your communities of the Affordable Connectivity Program (ACP). Next month I will share the 2024 construction plan so you can pass on to your communities.
Last month we received word that ROBIN grant funds are being allocated to Highline in the UP! This award will enable Highline to reach an additional 3,700 homes and businesses. We are grateful for the State of Michigan's leadership's decision to ensure that the UP will have access to a real High-Speed Internet connection. Next month I will share the 2024 construction plan so you can pass on to your communities.
Best,
CEO of Highline Midwest
989-529-5152
Want to know if we're available in your area? Check Availability
Build Updates in UP 
As our ability to trench fiber comes to a close with the onset of winter, we finish the year off with over 2,000 miles of fiber and over 13,000 homes that we can serve with gigabit fiber internet. Through the obstacles and permitting challenges we are proud of the work that has been done this season to end the digital divide in the U.P.
The ground might be frozen, but we are still installing into the winter season. Remind residents that if they have a green pedestal on their side of the road and it is within 300 feet of their home, they may qualify for a temporary winter drop. The temporary drop will be placed above ground, so it must be free from any type of traffic. Highline will then come back in the spring to bury the fiber!
Remember to remind residents that if they would like to have our blazing-fast service, they need to sign up at highlinefast.com.
OUT IN THE COMMUNITY
Highline is bringing joy to the season by donating Thanksgiving dinner baskets to the Snover Food Pantry located on Ubly Road in Snover and the Revive Ministries location on Main Street in Cass City.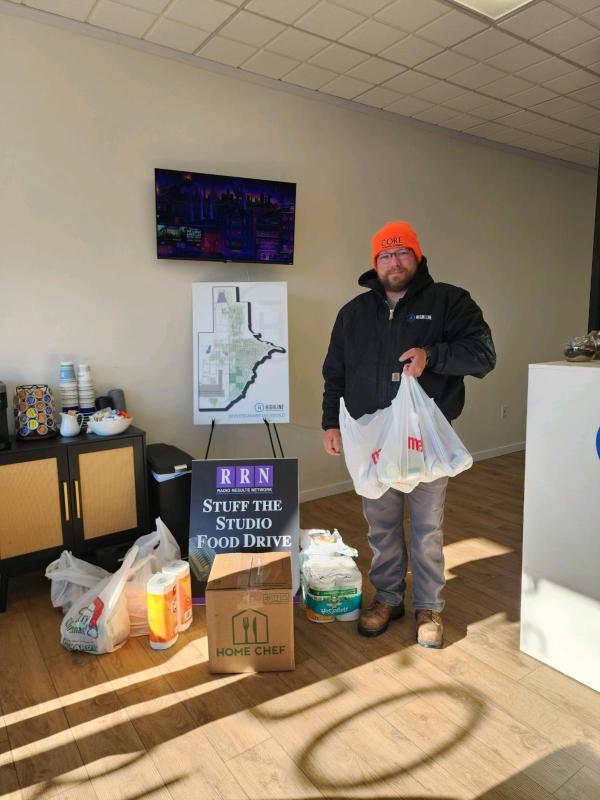 We also recently partnered with Radio Results Network for their "Stuff the Studio" annual food drive. RRN visited Highline's downtown location to broadcast live and collected canned goods and non-perishables. All donations went towards helping our community's local food banks.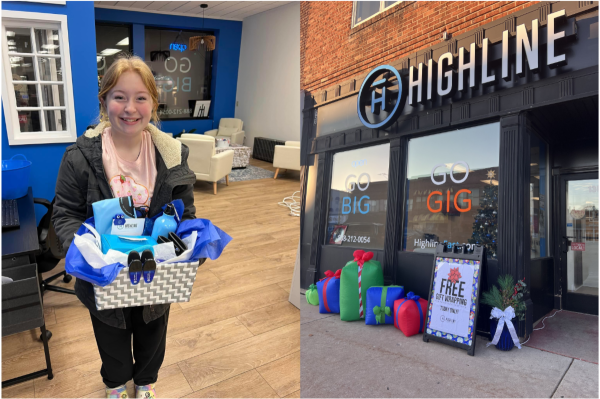 Downtown Escanaba hosted "Black Friday on a Tuesday" and the Highline Community Relations Team couldn't have been more excited to participate! The team offered free gift wrapping to downtown shoppers along with cocoa and treats. Each participating downtown business also had gift baskets that shoppers could enter to win. Shoppers were even treated to a limousine provided by Downtown Escanaba to transport them to drop-off locations along the way!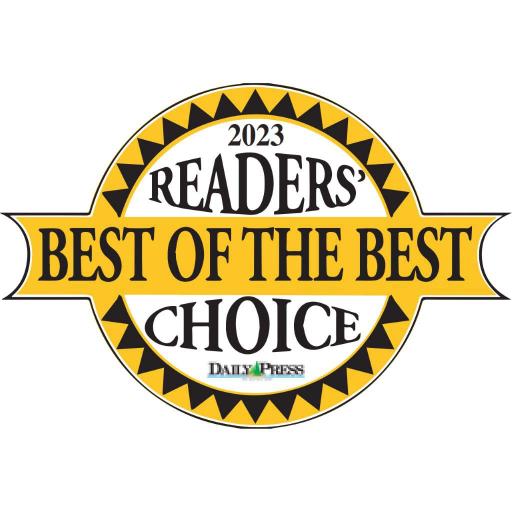 Best Internet Service Provider
Exciting news! Highline has been awarded Readers' Choice "2023 Best of the Best Internet Service Provider" by the Daily Press! What an honor!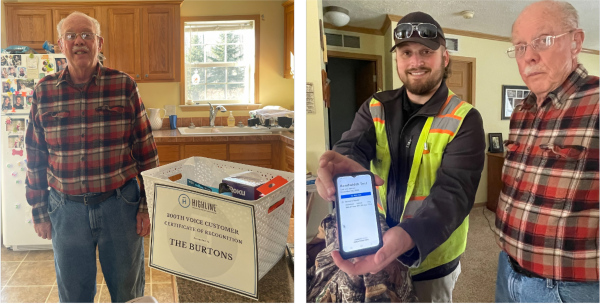 300 Voice Customers and Counting!
We signed the Burton Family up as our 300th voice customer in Sandusky today! Our technician, Jon, also did a speed test to confirm we're delivering real High-Speed internet!
Reminders
PARDON OUR MESS: While we operate within easements, Highline understands that homeowners take pride in caring for that area. We do ask for a bit of forgiveness as we lay this monumental infrastructure, but we are also committed to fixing issues residents have with the easement area on their property. Crews are performing real-time restorations on areas that are completed, and in addition, clean-up crews will come around to areas that were missed due to unforeseen circumstances. If residents have an urgent safety concern about a construction mess from our fiber build, please call 888-212-0054. RIGHT OF ENTRY PERMITS: The Upper Peninsula has hundreds of private roads and Highline will need a Right of Entry Permit from every landowner owning property down those roads. We cannot service customers who live down private roads until every landowner who owns property has signed a ROE permit (for each respective road they reside). Please reach out to Bruce Moore or Bethany Leiter if you can help facilitate ROE's in your township.